Quotes That You Didn't Realize Were About Antifragility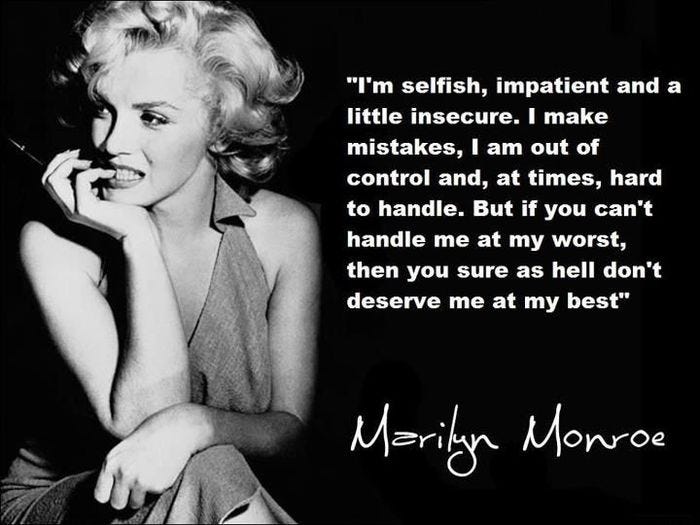 Most people have seen young women quote Marilyn Monroe: "if you can't handle me at my worst, then you sure as hell don't deserve me at my best." A lot of people even make fun of this quote, but it's far deeper than you might expect.
Life is volatility, and successful people are good risk managers. If you can capture benefits from volatility while minimizing the harms from volatility, you are antifragile, or at least robust, and you will win at life.
Monroe's quote is a rule one should always live by in friendships. People who avoid friends when they are down and only hang around when they are doing well aren't true friends. They are leeches. In this quote, Monroe is explicitly denouncing fragilistas and rent-seekers. This is the foundation of honor culture.
This is similar to Kevin Kelly's "1000 True Fans" message, and also the platitude "the opposite of love isn't hate, but indifference." Your biggest fans and your best friends will give you tough times because they care about you. If you cowardly avoid heat from them, you'll never truly be loved.
"Do you know the best thing about startups?"
"What?"
"You only ever experience two emotions: euphoria and terror. And I find that lack of sleep enhances them both."
This conversation and other stories about the conflicts Ben Horowitz and Marc Andreessen had with each other in The Hard Thing About Hard Things revealed their close friendship and why they are so successful. This is a great example of the barbell investment strategy when it comes to emotions.
Getting out of your comfort zone is good for growth and the best of friends aren't echo chambers. You are providing an environment where you allow each other to freely get out of comfort zones. In such friendships, you know that you might be uncomfortable in the moment, but no harm is done in the long run. Few people have close friendships like this because they fear the end of the friendship. If you're afraid of offending a friend, then you don't have enough faith in your friends.
In Chinese people often say "别客气" ("don't be polite") when they feel that their friend is being too polite and distant. Close friends don't need to be overly polite to each other. The word for politeness literally means "guest aura." You're a lot more formal with guests than with family.
Similarly, in Japanese, people don't use polite honorifics when addressing friends. Or even in English if you suddenly address someone by their full name when you usually use a nickname. This distant politeness implies that you would not accept that person at their worst.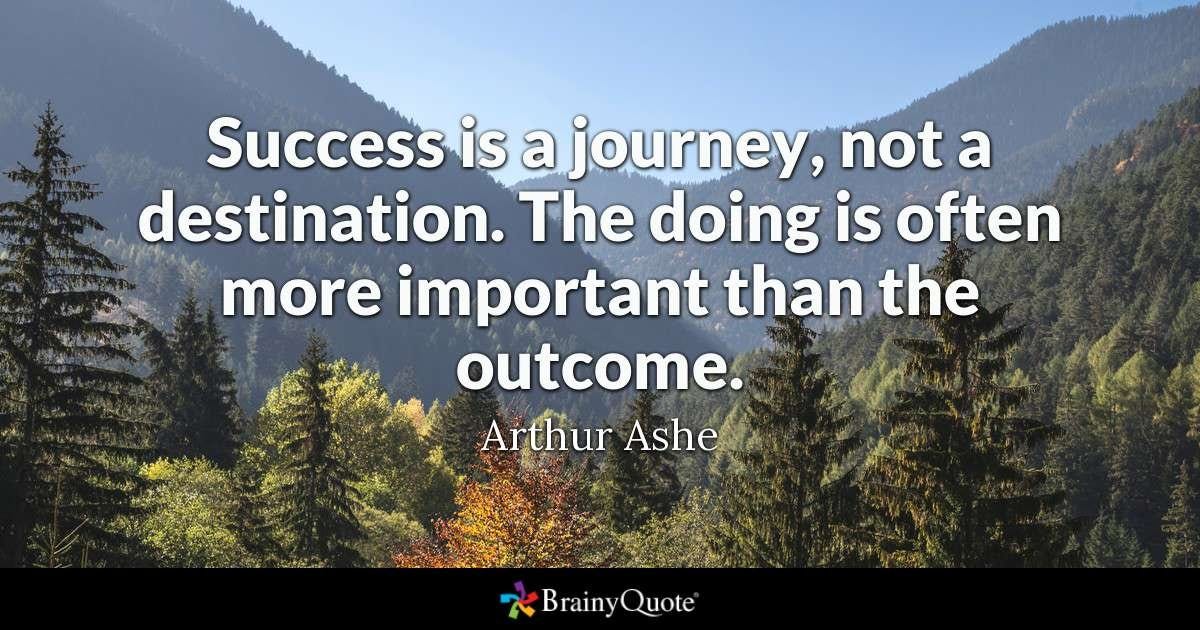 Most people do not closely associate this quote with the first quote, but they are actually intertwined.
Who goes on a journey with you? Who is there every step of the way rather than simply waiting for you at the destination?
The people who stayed with you at your worst.
They had skin in the game. They took the risks with you and it paid off.
Like or comment if you'd like to see more frequent short posts like this from me rather than infrequent longer form posts.